Shafqat Mahmood Minister for Education on Wednesday said that board exams for understudies of classes nine and 10 would be held after July 10 as they were for elective subjects and arithmetic, whereas exams for understudies of classes 11 and 12 would be held for elective subjects as it were.
He said
"This decision has been taken as students have different streams and directions so they will sit in exams related only to their particular subject of interest."
We took some important decisions today Re exams. For 9/10, exam in elective subjects plus math. For 11/12 only elective subjects. Exams pushed to after July 10 with 10 and 12 grade exams on priority. These decisions are final. No change

— Shafqat Mahmood (@Shafqat_Mahmood) June 2, 2021
Tending to the press conference on Wednesday, Mahmood said the common instruction priests needed exam comes about to be finished and discharged by the third week of September.
"All exams cancelled till June 15 and depending on the spread of the disease may even go further,"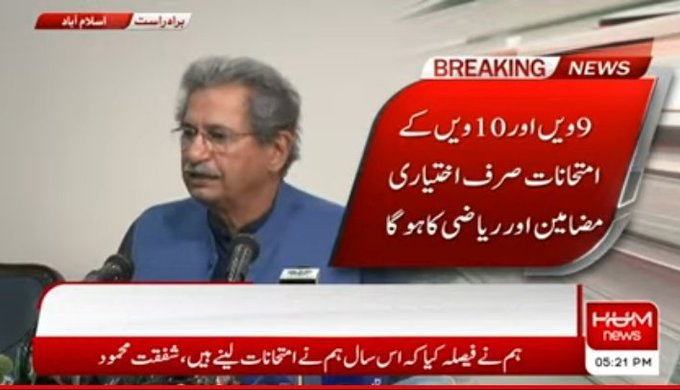 "We then reduced the syllabus by 40 per cent," he said, adding that the overall curriculum and nature of assessments had been modified keeping the challenges in mind. "The 9th grade and 10th grade exams will be taken in elective subjects, and mathematics will also be a part of it. Therefore, exams will be held in four subjects," he said, while the exams of 11th and 12th grades will be held only in elective subjects.